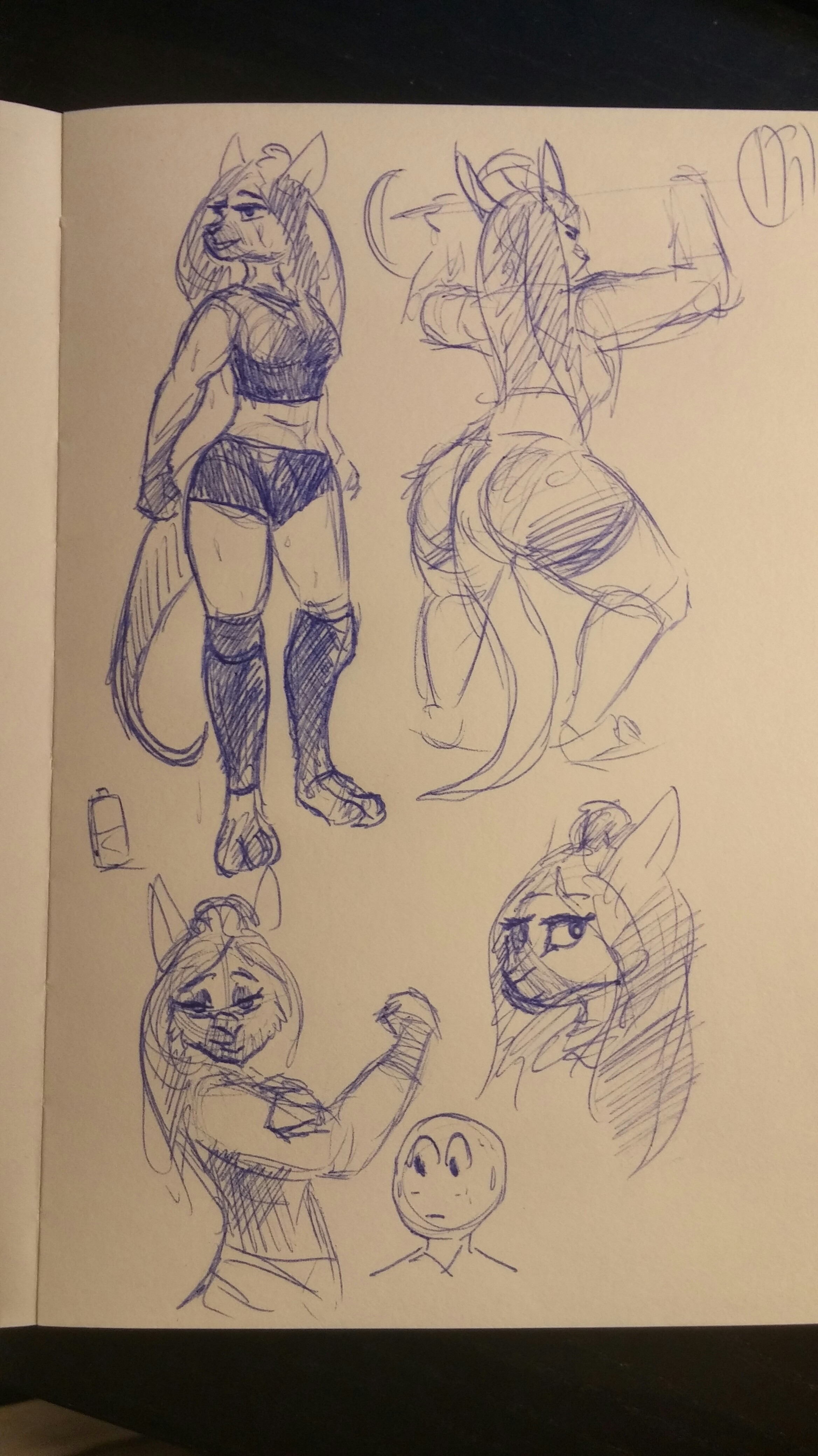 A Roo'd Awakening: Chapter One
If you prefer the greentext to be tinted green, you can read Chapters 1 through 4 here: https://www.4binz.org/416
>There was that dreaded sound again, the one you'd come to hate over the last few years.
>Admittedly, you were never much of a morning person, preferring to get a good night's rest whenever you could.
>To make matters even worse, you had a knack for waking up during the best parts of your dreams.
>The blaring next to your ear was auditory torture to your groggy self, blindly thrusting your hand at your nightstand to stop it at its source.
>After smashing your fist down on the snooze button you take a deep breath, rubbing the sleep out of your eyes before stealing a quick glance at the time.
>About an hour or so to burn before heading to work, that place that sapped your will to live.
>Before doing anything else you were going to take a hot shower, unable to pass as anything resembling human without one.
>The nearly scalding water running down your skin was akin to a wave of energy washing over you, instantly leaving you far more refreshed and alert.
>You couldn't help but let out a drawn-out sigh as you ran your fingers through your hair.
>After thoroughly toweling yourself off, you toss on the bright, cheery uniform you'd come to associate with misery over the years.
>Working at the local frozen yogurt place wasn't so bad but after a couple of years, you were less than overjoyed about still working there.
>This was only made worse by the fact that you still couldn't find meaningful employment in your field of study.
>That's right, despite having a degree you were stuck working a dead end job for teenagers.
>Not for lack of trying either, the job market in your town was very much lacking, unemployment rates at an all-time high.
>So you sucked it up, anything to avoid having to beg mom and dad to move back in again, having some shred of dignity still left in you.
>It was humiliating but you made the most of your time there, getting to know some great people, and a few assholes along the way.
>Those great people made every day working there a touch more bearable and that's all you could really ask for.
>Your growling stomach served to remind you to grab something to eat before you left.
>Your dinky kitchen was nothing special but it served you well over the years, everything organized in a way that worked best for you.
>Having determined you had some time before having to set off you grabbed some eggs, bacon bits, butter, and some bread.
>Quickly, you whisked the eggs in a bowl, slowly pouring the mixture into a hot pan, making sure to scramble the egg mixture as it cooked, adding the bacon bits as you did.
>You slathered the toast in butter and set it on a plate with the eggs, wolfing everything down while occasionally sneaking glances at your watch, not wanting to be late.
>Making sure you had your watch, phone, keys, and wallet, you rush out the door, almost forgetting to lock the door behind you.
>Sitting in traffic was arguably one of the better parts of your day, allowing you to gather your thoughts in relative peace.
>Reminiscing about college brought you momentary happiness, smiling as you thought about all the crazy shit you got up to throughout the years.
>Crazy was maybe putting it too lightly considering you damn near killed yourself on several occasions.
>A lot of things came to mind, like the time you took a plunge off a roof into a pool, narrowly avoiding breaking every bone in your body.
>The time you fell off a second story balcony at a party also came to mind, earning yourself a broken leg for your troubles.
>Or the many times you nearly drowned, passed out in a pool of your own sick, the only thing saving you from a sure death had been compassionate party-goers.
>As soon as you graduated though, you weaned yourself off the alcohol, not wanting to continue down that path.
>You'd had a lot of fun in college but it never satisfied you on an emotional level, empty hookups and meaningless sex serving as temporary distractions from your life.
>Not that you were against casual sex, but you never had anything resembling a stable relationship during those four years, only flings that lasted about as long as you did.
>To top things off, all the friends you'd made there kind of grew apart after college, only keeping in contact on occasion, but that was to be expected.
>You felt pathetic thinking about it but you couldn't name a single person that you were truly close with, a fact that saddened you to no end.
>College you had been a heavy drinker and party-goer but you couldn't help but think about what could've been if you'd done some things differently.
>Despite the sad state of your life since graduating from college, you were proud to have never resorted to forgetting yourself in a bottle.
>You'd seen too many close family members ruin their lives and health with alcoholism, not wanting to be the latest in an already long list.
>Over the years you'd found more productive ways to forget about how miserable you were, some more effective than others.
>Fortunately, the asshole honking his horn behind you interrupted your depressing train of thought.
>"Get a fucking move on already!" he screamed, leaning out of the window of his truck.
>"God I hate this town," you muttered to yourself, moving up in the traffic jam.
>The traffic jam eventually cleared up, arriving at work with just minutes to spare.
>You took a deep breath, giving yourself a motivational speech before getting out of your car, earning you some strange looks from passerby.
>You heard that familiar entry bell chime as the doors swung open, rushing to clock in for the day.
>"Hey Anon, how was your weekend?" Kevin asked as you punched in.
>You fist bumped him, "Just more of the usual, you?"
>A sly grin tugged at the corners of his mouth, "Can't complain, met someone new at the bar on Saturday."
>"Oh yeah?" you cocked an eyebrow at him, "You gonna tell me how that went?"
>"I will later, Kelly's been looking for a reason to write me up, but what else is new, right?"
>You nodded in agreement, "Preaching to the choir here buddy."
>Kevin was one of the few people you could call a true friend, having worked on the same shift as you for two years now.
>Kelly was your shift manager, a fact that you'd begrudgingly come to accept over time.
>It bothered you that someone two years your junior was in charge, especially someone who'd been with the store for far less time.
>You sucked it up, swallowing your pride a little more each day as you took orders from her.
>She walked over to you and Kevin, clipboard in hand, "Care to explain why you were two minutes late today?"
>What little hope of having a good day at work you still held on to had gone out the window with those few words.
>You turned to face her, meeting her gaze, "You never been stuck in traffic, Kelly?"
>Kevin excused himself and ducked into the backroom, wanting to avoid getting dragged into things.
>"Everyone has to deal with traffic Anon, you're not special and certainly not the first with that poor excuse."
>Normally it wouldn't be such a big deal but you were sick of Kelly hounding you over every little mistake.
>"Why is it such a big deal when I'm late but not when the next shift rotates in fifteen minutes late without a real excuse?"
>"Look, it's not my problem because I manage your shift, not theirs."
>As the conversation went on you only got more upset at her unsatisfactory answers.
>"You'd think if their shift manager doesn't care if they're here fifteen minutes late, you wouldn't care so goddamn much when I'm two minutes late!" you exclaimed, slamming your open palm onto the counter.
>She crossed her arms, staring daggers at you, "Don't raise your voice with me Anon, you might not like it but I'm your manager and it's my responsibility to make sure this store is staffed up when it needs to be."
>"It's nine in the morning Kelly, Jesus Christ, how many people are coming here at 9 am that you can't handle things for two minutes without me?"
>"Better yet, why is it so hard for you to cut me some slack for once?"
>"Just make an effort to get up earlier Anon, I'm not going to accept any more excuses or ask you nicely next time," she said, writing something down on her clipboard.
>"That was asking nicely? Fuck me..." you muttered under your breath as she walked away.
>You and Kelly had dated at one point, something you kick yourself for even having thought of doing.
>Since you were a touchy-feely idiot who couldn't hold your tongue when it came to relationships, she knew more about you than most people.
>You'd shared some fairly personal stuff, namely your experiences regarding the alcoholism and drug abuse that you'd seen as a kid.
>You weren't raised in an abusive home but you'd seen firsthand what substance abuse could do to once happy families.
>Even family members that didn't have families of their own to speak of ruined their livers and became financial burdens for those closest to them.
>You'd told her everything, especially how you wanted to avoid the same fate by following in your father's footsteps.
>You looked up to him, he'd worked hard to put a roof over your head as a kid and give you all the tools you needed to be successful.
>It was something you'd always been grateful for, even if you weren't the best at showing it.
>That's why it stung so much to be working this dead-end job, you desperately wanted to do the same for a family of your own, to make your father proud while you still had him.
>He'd left some massive shoes to fill and even though you were confident you would measure up one day, doubt occasionally lingered in the back of your mind.
>Some days you'd have trouble even keeping your composure around Kelly, letting your tears flow free.
>She'd provided you with comfort and love that you'd seldom felt before, reassuring you when you felt life was hellbent on breaking you down.
>Despite how strained the relationship between you two became, she'd always given you the confidence to push forward and strive to better yourself.
>It was something that to this day you'd never thanked her properly for, the best gift anyone had ever given you.
>You blamed yourself for the breakup, your crippling fear of commitment and doubt getting the best of you.
>Out of the blue you'd decided there was little in common between the two of you, choosing to break off the relationship instead of leading her on.
>She didn't take things too well, not that you'd expected her to, thinking back to the events of that day.
>You'd at least had the balls to tell her straight to her face, remembering the sting of every slap and her heart-wrenching sobbing.
>She didn't want whatever meager apologies you had to offer her, instead wanting you out of her life.
>You didn't know it at the time but she'd had trouble with rejection before, something that only served to amplify the guilt you felt.
>But you couldn't blame her for anything, you knew just how much she cared for you and you fucked everything up out of what? Fear?
>Regardless of who was to blame, you'd decided you didn't want to hurt anyone like that ever again.
>Moving forward, you vowed to only commit to relationships if you were 200% sure things were going to work out.
>You couldn't stand the way you felt after getting out of that relationship, feeling like the biggest asshole to ever walk the earth.
>You wallowed in self-loathing for weeks, deluding yourself into thinking you didn't deserve that kind of love and comfort ever again.
>After the fact, you tried getting your shift moved around to avoid her, but most other shifts were filled and nobody wanted to swap with you.
>So, you tried to make the best of things, doing your best to be a model employee, something that you could never again be in her mind.
>Luckily your job wasn't very demanding, just scooping and weighing ice cream, a job so simple even a monkey could do it.
>You tried to not let it get to you too much.
>Sure, cleaning the bathrooms after the midday rush wasn't the highlight of your day but it came with the territory.
>The first few hours of your work day were always slow, habitually striking up a conversation with Kevin to help pass the time.
>You put a hand on his shoulder, making him jump a bit, "So, you gonna tell me about that girl you met?"
>"What, the bar girl?"
>"Who else do you think I'm talking about, numbnuts?" you laughed.
>He put an arm around you, bringing you in close, "Alright, don't judge me too much but she's uh, one of those anthro girls."
>"Wait, seriously?" you cocked an eyebrow at him, "Didn't peg you for the type."
>"That's how I felt at first but then we went back to my place and oh my god, the things she could do with her ton-" he cut short, noticing Kelly's eavesdropping.
>"You know what, nevermind," he said loud enough for Kelly to hear, then cupping a hand over his mouth.
>"But listen, dude, dog girls are fucking awesome, they can't get enough of you," he whispered, Kelly shooting him an odd look, "I felt like a goddamn king with the way she treated me."
>"It was a little weird that she would constantly sniff me, I gotta say."
>"But if you can look past that, you should give them a shot, my man."
>"Yeah, I don't know if I'd be into all that but I'll keep it in mind," you said, "Listen though, I'm gonna go get some burgers for lunch today, you in?"
>"Fuck yeah, I'm in."
>After a few hours, you both went on break, leaving Kelly to hold down the fort for a while.
>As you both made your way to the local burger joint, you had some time to collect your thoughts.
>Thinking back on what Kevin had said, despite your reckless college years you'd never even talked much with anthro women beyond required stuff like class projects and presentations.
>Although you had seen a few with bodies nice enough to make a man want to reconsider.
>That's also not to say you weren't curious enough to do a little research on seedier parts of the internet, something you weren't particularly proud of.
>Dating outside your species was a weird concept to you still, and you weren't the only one who thought the same way.
>Dating an anthro as a human was still seen as taboo, despite anthros being around for the entirety of your life.
>It was one of those things you wouldn't mind trying at least once, the opportunity just having never presented itself to you.
>As you sized up the many options the menu had to offer, you settled for a double cheeseburger and fries, something this place was well known for.
>As much as you hated to admit it, there was nothing quite like a nice greasy burger for lunch, tearing through your meal in record time.
>Kevin groaned and rubbed his full belly, "Goddamn that hit the spot."
>"Right? I haven't had a burger that good in a while," you groaned in agreement.
>A quick glance at your watch told you it was about time to head back to work, not wanting to incur Kelly's wrath for the second time today.
>There weren't many customers to speak of in the mornings, most of your clientele being kids and teenagers, usually in school until later in the day.
>When that afternoon rush came through, that's when you really started hating your job.
>The noise, smells and constant spills you had to clean up came together to form an environment that could give even the most patient man a headache.
>It was hellish but after the afternoon rush cleared up, the job became tolerable again, usually having few customers until it was time to change shifts.
>Just thirty minutes before you were free from this hell, you heard that familiar ring while you were busy cleaning up for the next shift.
>You went to see if a customer had come in, but the store was bare besides you, Kevin and Kelly, who were both in the back.
>Not seeing anyone, you turn to head back to your duties, until you heard someone yell, scaring the everloving shit out of you.
>"Oi dickhead, down here!"
>Looking for the source of the noise, you peered over the tall counter and saw what you thought was a Kangaroo girl, a fairly small one at that.
>Eyeballing it, the girl was on the shorter end of the four foot range, considering how you towered over her by comparison.
>You couldn't lie, it was hard to resist making a short joke since you easily had two feet on the girl.
>And that wasn't to say her height was a bad thing either considering the excellent view you were getting from above.
>You felt like a pervert for noticing, but with your view, you could tell she wasn't wearing a bra.
>Those "research" websites had done some things to your sexuality you weren't proud to admit.
>You put on your best smile, "My bad, didn't see you there."
>"Can I still order something or am I buggered, mate?"
>"We're open late today, just getting things ready for the next shift, what can I get you?"
>"Two scoops of vanilla with some of the granola there on top," she said, pointing at the topping.
>You had to admit, the way she had to stand on her tiptoes to even see over the counter was pretty damn adorable.
>You scoop up the ice cream and sprinkle a generous amount of granola on top, weighing it after, "Anything else, or will that be all?"
>"Just that, mate."
>"That'll be 3.25$, will that be cash or credit?"
>She quickly paid for her ice cream, thanking you.
>She turned to leave, but stopped herself midway to turn back to you, "Listen, mate, sorry for calling ya a dickhead, the guys on the other shift usually can't tell up from down."
>"Don't worry about it, just part of the job."
>She left the store, the encounter putting a small smile on your face as you went back to cleaning up.
>You couldn't shake that feeling in the back of your mind, nagging at you as if you'd seen her somewhere else before.
>You chalked it up to coincidence, not thinking much of it and getting back to what you were doing.
>You finished cleaning up with Kevin and chatted with him on the way to your car, "So, movies this weekend?"
>He thought about it for a second before shooting back a reply, "I'm down, just let me know when, heard Ocean's 14 got some killer reviews."
>"Cool, I'll shoot you a text this weekend, take it easy."
>"Later dude."
>You got in your car and drove off, happy to be heading away from that place and to your little slice of heaven.
>As you pulled up to the local gym you felt at home, the highlight of your day being a nice, hard workout.
>Grabbing your gym bag, you head inside, straight to the locker rooms to change out of your work clothes.
>Usually you did a bit of cardio on the treadmills but not today, today you had a date with a punching bag.
>It was no surprise the punching bag was so appealing to you, allowing you to let out all your frustrations without worry.
>After getting into a comfortable stance and taking a few deep breaths, you let loose a barrage of blows into the bag.
>Every blow was accompanied by a loud thud, the bag jostling around as it absorbed each hit.
>You realized it wasn't particularly healthy behavior but each time you forcefully struck the bag, you felt better.
>You worked up a serious sweat, throwing punches with enough force behind them to knock someone out.
>Make no mistake, the gym was your sanctuary, you loved every single aspect of it.
>Everything from the huge variety of equipment, the yoga pants clad women and even the horrible music that had somehow grown on you over the years.
>Taking a break from your assault on the punching bag, you got a drink and did some lunges while you decided what to do next.
>You settled on doing some deadlifts, bench pressing and then finishing things off with some squats.
>Out of the three lifts deadlifting was by far your favorite, the thunk of weights hitting the ground that accompanied each rep was like music to your ears.
>Bench pressing was close behind on said list, the pump it gave to your chest and arms making you look far stronger than you actually are.
>And finally, you couldn't forget the glutes for the sloots, squatting being your least favorite out of the essential lifts.
>As much as you hated them, the results were apparent to anyone who looked at the lower half of your body, an ass some women might even be jealous of.
>Every squat caused you to grunt, working through the penultimate set of reps in your workout, your aching muscles doing their best to power through.
>After finishing the set, you took some time to rest and catch your breath before heading out.
>You weren't exactly a newbie but you had to admit your lifts were stalling a bit lately, not making as much progress as you'd like.
>You partly blamed your diet for it, being too demotivated to eat clean all the time.
>In reality being lazy was to blame for most of it, but you wanted to give the clean eating thing another shot, just to see if it would improve your lifts and gains.
>Vowing to stop eating junk food for the foreseeable future, you finished up the last set with newfound motivation.
>After finishing up, you made your way to the locker room, dripping with sweat.
>It was a little unorthodox but you typically used the gym showers, saved you a little bit on the utilities and the showers weren't half bad.
>Kept your car smelling like new too, which was another nice little benefit.
>Feeling refreshed after a thorough workout and shower, you got in your car and headed home.
>Once home, you realized your clean eating challenge was going to be far harder than you first thought it to be.
>You got to work, moving all the junk food to somewhere where it'd be out of sight and out of mind.
>You made yourself a couple of sandwiches for dinner, not in a mood to actually cook something that you'd consider a proper meal.
>You watched some television as you ate, flipping through channels until settling on the news, a segment about human and anthro marriage legislation in the pipes catching your eye.
>It was strange seeing anthro and human couples in public but you figured so long as two people love each other, they deserve to be able to get married.
>You quickly thought back to the kangaroo girl you'd helped earlier today, shaking off some less than pure thoughts.
>You blamed the internet for your indecent thoughts, trying to turn you into some kind of deviant.
>After working through the rest of your bachelor meal, you turned off the TV and went to get some rest, not wanting to be both groggy and miserable at work tomorrow.
>You sat in the parking lot, fifteen minutes early for work and not looking forward to another day of menial labor.
>At least you had Kevin to help pass the time.
>A smug grin was plastered on Kelly's face as you went to clock in, "See, I knew you could make it on time if you put your mind to it, Anon."
>"I'm glad I've set such low standards that coming in early is cause for celebration," you muttered.
>"I just want what's best for you Anon, just like how you wanted what was best for you, and only you."
>That one stung a little bit since it was mostly true, she'd had strong feelings for you and you just… didn't feel the same way.
>It wasn't like it was your intention to break her heart, you just didn't want to lead someone on for no good reason, it went against your principles.
>"How many times am I going to have to apologize for what I did?" you sighed before looking her in the eyes, "Look, I get it, I'm a shitty person. You don't have to rub it in, alright?"
>It took her a second to reply to your statement, the words putting her on the spot, "Apologize for what Anon? I just want you to be a great employee."
>She was tougher than you'd given her credit for but even you knew that denial and repression wasn't the way to deal with things.
>You dropped the subject, deciding that it wasn't the time or the place to get into an argument about your relationship, "You know what, forget I even said anything."
>Kevin looked like he'd seen a ghost, a flushed face that was only accentuated by him rubbing his temples.
>You walked over and put a hand on his shoulder, "You alright man? You're not looking too hot."
>"I wish I was alright man, I had the craziest night ever."
>"Hit the bottle too much last night, or what?" you grinned, making a mock drinking gesture.
>"Hell I wish, I'd probably be feeling better if I'd gotten drunk instead."
>You shot him a confused look, "So what the hell did you do then?"
>A shit-eating grin appeared on his face, "It's not what I did, it's who I did."
>"Who? Wait.. the girl from the bar? Again?"
>"Yup."
>You gave him a pat on the back for his accomplishment, "Seriously? Nice going man."
>He groaned, head in his hands, "Don't say it like I'm some kind of god, I feel like a human dildo after last night."
>"That bad, huh?"
>"Did you know anthro girls go into heat too? Because I sure as hell didn't."
>You were painfully aware that they did from your hours of "research" but that wasn't something you were prepared to admit to Kevin just yet.
>"So, how was it? I'm a little curious."
>Kevin gave you a very thorough and enthusiastic explanation of his escapade, using his hands to help make his points.
>"From the second I walked in the door she was on me like white on rice, wouldn't stop burying her nose in my crotch," he said, "She literally ripped my pants to get at my dick, it was insane."
>"We did it everywhere man, the couch, the counter, the bed, the shower," he said, "It was absolutely insane, she wouldn't stop for anything."
>"Don't even get me started on the claws dude, if you could see my back right now you'd swear someone ran a rake down it."
>"I got two hours of sleep last night man, my balls are drier than the goddamn Mojave desert."
>"It fucking feels like someone took a flamethrower to my crotch last night with how hard she was going at me," he continued, "I have rug burns man, I can't even sit down right now."
>"Jesus Christ man, that bad? Was it good at least?"
>He gave you that shit-eating grin again, "My everything hurts right now, but to tell you the truth, I fucking loved it."
>You had heard about and uh, seen some of the more unique qualities that anthro women had to offer, but you'd never talked to a "victim" firsthand.
>You figured he could use a break after the kind of night he'd had.
>You put a hand on his back, causing him to wince slightly, "Let me take over register duty for you, just pretend to be busy in the back so Kelly doesn't catch on, alright?"
>"You'd really do that for me? Thanks, man, I owe you one," he said, limping towards the back.
>"No problem, stud!" you say with a laugh, making sure he heard you.
>"Very funny!"
>The rest of the morning went off without a hitch, Kelly seemingly in a better mood than usual.
>For a moment, life was good.
>It was hard to describe how you normally felt, but if you had to put it into one word it would be, unfulfilled.
>You were just going through the motions everyday, short of spending time with a few friends and your gym visits.
>It felt like you were stuck in a hole with no way to dig yourself out, an almost suffocating feeling.
>Looking at your watch you sighed, seeing you only had a few minutes before the afternoon rush.
>By the end of things, you felt as if you had scooped your own body weight in ice cream, an impressive feat.
>You decided to get things cleaned up early, maybe Kelly would have some compassion and let you and Kevin go early, god knows he needed it.
>"You almost done back there Kevin? I'm trying to leave early today!"
>"I'm sure as hell not, you know how long she's going to be like this? I'm a dead man walking!"
>"Alright you can hide out in the back for the rest of your life if you want, just help me clean up, will you?" you asked him.
>He poked his head out and gave you a mock salute, "Fair enough chief."
>You heard that familiar ring again, turning around to find nobody was there, for the second time this week.
>You took a quick peek over the counter and found exactly what you thought you would, the very same kangaroo staring up at you.
>You gave her a closer inspection this time, the kangaroo having her hair in a neat raised ponytail along with some far too small for her body workout clothes.
>She had a grin plastered on her face, staring up at you, "Hey, dickhead."
>"You again? What can I get you this time miss?"
>"Mate, call me Ruby please, miss just sounds weird."
>"Fair enough Ruby, what can I get you?"
>"Same thing as last time mate, go easy on the granola this time though, will ya?"
>You quickly scooped out the ice cream, making sure to add less toppings this time.
>"What, too healthy for you?" you laughed, "This might be a weird question but how come I've never seen you around before?"
>"Usually finish my workouts later than this, usually see the late shift boys when I come through."
>You handed her the ice cream, "Oh yeah? You go to the local gym?"
>"Yeah, that's the one, bloody good place to workout at. You go there too?"
>"Usually after I'm out of this hellhole but yeah, maybe we'll see each other around sometime."
>She smiled, turning to leave, "See you later then, dickhead."
>Your eyes were glued to her swaying tail and ass on her way out, her workout shorts struggling to contain that plump, firm ass.
>Now there was an anthro girl you wouldn't mind being seen with, popping a half chub at the spectacle.
>Kevin stood behind you, jaw hanging wide open, "Dude."
>"I know, right?"
>You were on your way to the gym when you thought about what she'd said before.
>Did she plan to see you at the gym tonight or were you just overthinking things?
>Either way, you were happy to be at the gym again, taking in a lungful of that stale gym air as you walked in.
>You greet the receptionist and make your way to the locker room to get changed.
>For a Tuesday night, the gym was pretty packed, yoga and Zumba classes to blame, probably.
>You were feeling good today, giving the punching bag a skip and getting right into your workout.
>You decided to start on the rowing machine, giving your neglected arms some much needed attention.
>There was nothing quite like the feeling of doing some rows while listening to your favorite music.
>After that you made a quick stop and did a few sets of cable flies, not wanting to neglect your chest either.
>Following those two exercises you did the exact same routine from the day before but in a different order, leaving the bench for last as you gave your chest some time to rest.
>Maybe it was just placebo but the lifts you were struggling with yesterday felt far easier, your mood being as good as it was.
>You'd changed your mind when you got to bench pressing, beads of sweat forming on your forehead as you re-racked the weight.
>As you sat there panting, a small shadow began to loom over you.
>"You going to be alright mate or should I get you an ambulance?" Ruby asked, giving you a playful jab on the shoulder.
>"Very… funny," you pant, a familiar face and second rack suddenly appearing overhead.
>She had the smuggest grin on her face, looking down at your tired, sweaty form, "If you say you don't need one then I believe you mate, just looking out for you."
>"What you doing here this late? I thought you only came into the store after workouts?"
>"I like doing some yoga now and then, keeps me limber mate," she said, "Plus, it's ace watching all the fat girls trying to get into the positions, isn't it?"
>You laughed, whale watching also being a guilty gym pleasure of yours.
>"I'm no expert but you seem pretty limber as it is," you said, finally having caught your breath again.
>"You know, if you're getting this worked up from just this, might want to consider a little cardio."
>"I'll keep it in mind, but you could really benefit from doing some stretches and calf raises," you grin.
>"Oh fuck right off then, arsehole," she says, storming off.
>"Wait what?" you said, turning to see her running out of the gym.
>By the time you get off the bench, she's already long gone, "What the hell just happened?"
>You slapped your forehead when you made the connection, realizing just how much of an idiot you were.
>You ran outside to see if you could spot her, but she must've taken off like a rocket.
-------------------------------------------------------------------------------------------------------------------------
>"What a fucking arse, what kind of twit makes jokes out of nowhere like that?"
>You were sick of hearing jokes about your height from everyone you'd met since you were a kid.
>Sure, you knew you were a short girl but you didn't need to be reminded everywhere you went, it got old real bloody fast.
>You thought you'd finally met someone who didn't give a shit about it, but you'd been dead wrong.
>Your mom was a wallaby and your dad a kangaroo, so short kids were to be expected but you'd really gotten the shortest end of the stick.
>All your brothers and sisters were taller than you by at least half a foot, it just wasn't fair.
>You felt like crying but losing your temper was a far better use of your energy right now.
>You were gonna biff that fairy when you saw him tomorrow, right after giving him a piece of your mind, you swore to god.
>The whole time you were jogging home, you grit your teeth, only getting more and more upset by the second.
-------------------------------------------------------------------------------------------------------------------------
>The whole way home you kept thinking about it, feeling guiltier by the minute.
>You didn't mean it that way when you'd given her the advice, she just didn't give you any time to explain yourself.
>Some part of you hoped you'd see her again tomorrow to apologize for the misunderstanding, she seemed like a nice enough girl.
>Even when you meant well, things usually ended up taking a turn for the worst.
>When you got home you made something actually resembling a meal, treating yourself to some carbonara to forget about what had happened.
>You watched the news for a bit and shitposted on your favorite websites for a while before deciding to turn in for the night.
>It was difficult to sleep that night, constantly stirring and shifting, guilt gnawing at you like a rat.